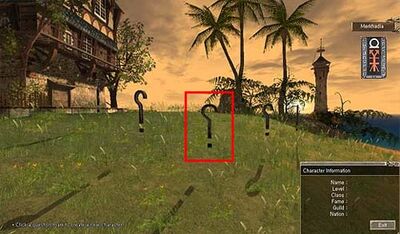 Once you've chosen your nationality, you can create your character.

Click on one of the floating question marks to open a window for creating a character.
You can start choosing a name and a class for your character. You will be able to modify your character's appearance, and you will also need to assign bonus stat points.
---
Name
Enter the name of your character.
Gender
Select a gender. It's only available for humans, for akkan gender is determined by class.
Hair Style
Select a hair style
Face
Select a face
Attire
Select the default outfit. It's only available for humans, more outfits are sold in the general store.
Class
Choose an initial class. You can upgrade your class based on your initial class at a trainer.
Rotate
Rotate your character 360 degrees, character orientation becomes permanent when you click create.
Ad blocker interference detected!
Wikia is a free-to-use site that makes money from advertising. We have a modified experience for viewers using ad blockers

Wikia is not accessible if you've made further modifications. Remove the custom ad blocker rule(s) and the page will load as expected.